Our students at Brownsville Collaborative Middle School address their peers on what they learned about making videos at The Campus, an after-school program that teaches tech and media skills to kids in the Howard Houses in Brownsville, Brooklyn.  It is the first computer lab developed in public housing in the US.
Founded by Senator Jesse Hamilton (D),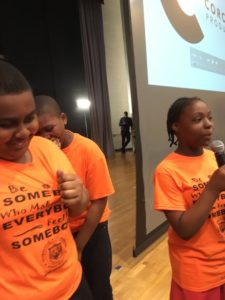 to address this systemic problem of inequality, Senator Hamilton assembled teachers and community leaders to bring tech resources to Brownsville.
We spent an academic year teaching kids about storytelling through photography and video.  Their stories and observations can be seen on their blog: Brownsville Visible
In addition to the blog,  check out the video below to learn what Emoni, Tyrese, Isiah and Kymani learned in making their stories.
To see the student videos, click on the links for the Brownsville Barber Guru and the interview with Local Hero, Brownsville Collaborative Middle School  Principal, Gregory Jackson.