The PEN World Voices International Literature Festival Turns 10 this April.  Created as a response to the xenophobic feelings experienced in the US after the 9/11 attacks, the festival continues as a much-needed dialogue with the United States and the rest of the world.
The festival was founded by Michael Roberts, the former Executive Director of the PEN American Center, Translator Esther Allen and Writer, Salman Rushdie in 2004.  More than 100 international writers traveled to New York City to find an extremely receptive audience hungry for their diverse stories.
This short video has highlights from the first festival, which is a basic who's who in the literary world.  In addition to Rushdie, David Grossman, Zadie Smith, Chinua Achebe, Chris Abani, Azar Nafisi, Margaret Atwood, Orhan Pamuk, Henning Mankell, Suketa Mehta and many others, offer thoughtful remarks about writing, literature and the critical role of culture in a progressive society.
The video ends with tributes by Rushdie, Ron Chernow and Diane Von Furstenberg at a party hosted by  Von Furstenberg in her Greenwich Village home.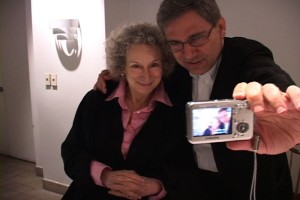 Congratulations Michael, Esther and Salman on creating such a worthwhile institution.