The Perfect Pitch For Startups?  Is there such a thing?  Three Crain's New York Business judges tell us there is.
On this Friday, 13 entrepreneurs gathered at Columbia Business School to pitch their startups to three Crain's New York Business judges, Erik Ipsen, Elaine Pofeldt and Trish Henry. The event was sponsored and organized by the Eugene Lang Entrepreneurship Center and facilitated by it's administrative director, Ashley Zwick.
The month before the event, entrepreneurs had to submit a 90-second video pitch. They were given the option to work with a coach beforehand but were only allowed one take. If they stumbled, it was on tape for all to see.
After the videos were screened for the judges, the entrepreneurs were invited to the front of the room for a round of rapid-fire questions from the judges. Highlights are included in the video. The judges left the room and conferred for 10 minutes and selected four finalists to move to the next round of questioning.
After the entrepreneurs from the four selected companies were questioned, (co-founder Ibdeel Ahmad, Parlasa; ceo and founder Ally Downey, weeSpring; co-founder Justin Belmont, Perk.la and Farsai Chaikulngamdee,  Try The World) the judges left the room for another 10 minutes to choose the winner, Ally Downey, ceo & founder of weeSpring.  The audience favorite was Jason Friesen's Trek Medics International, a non-profit organization devoted to improving emergency medical care with a focus on the developing world.
A mother of a two-year old, Downey feels weeSpring is her second child, that needs and gets as much attention as her son.  She loves it though, and speaks as passionately about her company as she does her family.  She has had ample time to perfect her pitch over the last few months as part of the .06% in the startup world.  weeSpring is one of 11 companies chosen out of 1,700 applicants to be part of the uber-competitive 2013 NYC class at  TechStars.  It's a rigorous program where she not only receives office space and mentorship but is continuously encouraged by the TechStar community to take her vision to the next level.
To read the story on Crain's click here.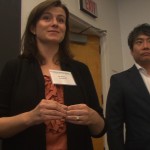 Not only will Downey receive extensive press coverage from winning the pitch competition, she will also receive a free six-month subscription to Crain's.
To learn more about The Eugene Lang Entrepreneurship Center at Columbia Business School, click here.
For more information on Crain's New York Business click here.
Can't see it on Vimeo?  Watch it on YouTube.