Six months ago we watched 13 entrepreneurs pitch their startup idea to three seasoned journalists from Crain's New York Business.  The winner was Ally Downey, CEO and Co-Founder of weeSpring with runners-up, Perk.la and Try The World.  We recently caught up with them to find out how they are doing since the competition.
It is heartening to see these young business owners even more passionate and determined than they were six months ago.  All have made significant gains to their businesses, but there is one common theme that is inescapable: managing the 24/7 relentless manic ups and downs of starting a business.
No classroom, no matter how robust and acclaimed, can prepare a person for the constant onslaught year in and year and year out.  Downey says there is a notion for first-time entrepreneurs that if you build it, they will come.  "When I first pitched weeSpring I had a picture of one mother telling five new mothers about weeSpring and they would tell 20 more mothers.  But how does that one mother REALLY tell those five mothers?  I just assumed they would, but it isn't that simple." said Downey.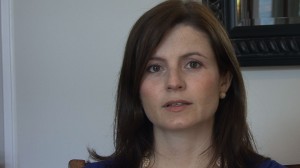 Now that all companies alike, no matter what the size, are vying for the same attention on Pinterest, Facebook, Twitter, Instagram, YouTube, Vimeo and other platforms, it is getting harder for to rise above the cacophonous social media reach.   Even one year ago these companies had a wider reach than they have today.   Some company Facebook updates have a 3% reach today down from 20% one year ago.
"The organic channels that used to be there have closed down because everyone is going after them, so you have to be really creative to generate traffic and keep people coming back and spreading the word," said Downey.
But it is that challenge, and the pursuit of hiring, firing, and leading a team on a vision that engages the co-founder's every waking moment that keeps these young talented entrepreneurs in the game.
"We are getting something out of this regardless of what happens.  Knowing that and having access to the Columbia network one year from now, five years from now, wherever we are, wherever Perk.la is, we are moving forward."  said Josh Kaplan, Co-Founder, Perk.la.
Can't see it on YouTube?  Watch it on Vimeo.